Monohull Sailing Yacht Sandcastle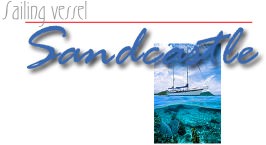 Availability
| Start Date | End Date | Details |
| --- | --- | --- |
| Jul 27, 2017 | Oct 31, 2017 | Unavailable: Red Hook, St. Thomas, USVI* to Red Hook, St. Thomas, USVI* |
| Dec 02, 2017 | Dec 08, 2017 | Booked: Red Hook, St. Thomas, USVI* to Red Hook, St. Thomas, USVI* |
| Dec 27, 2017 | Jan 03, 2018 | Booked: Red Hook, St. Thomas, USVI* to Red Hook, St. Thomas, USVI* |
| Jan 06, 2018 | Jan 13, 2018 | Booked: Red Hook, St. Thomas, USVI* to Red Hook, St. Thomas, USVI* |
| Jan 14, 2018 | Jan 21, 2018 | Booked: Red Hook, St. Thomas, USVI* to Red Hook, St. Thomas, USVI* |
| Jan 24, 2018 | Jan 31, 2018 | Booked: Red Hook, St. Thomas, USVI* to Red Hook, St. Thomas, USVI* |
| Feb 16, 2018 | Feb 24, 2018 | Hold: Red Hook, St. Thomas, USVI* to Red Hook, St. Thomas, USVI* |
| Jul 07, 2018 | Jul 14, 2018 | Hold: Red Hook, St. Thomas, USVI* to Red Hook, St. Thomas, USVI* |
| Jul 17, 2018 | Oct 31, 2018 | Unavailable: Red Hook, St. Thomas, USVI* to Red Hook, St. Thomas, USVI* |
Rates

High Rate: 14200.00 USD per week
Low Rate: 9600.00 USD per week
| | | | |
| --- | --- | --- | --- |
| | 2 Pax | 3 Pax | 4 Pax |
| Summer 2017 | 9,900 | 13,200 | 14,200 |
| Winter 2017/2018 | 9,900 | 13,200 | 14,200 |
| Summer 2018 | 9,900 | 13,200 | 14,200 |
| Winter 2018/2019 | 9,900 | 13,200 | 14,200 |
MCA Compliant: MCA Compliant
Rates are All Inclusive
Taxes, re-location fees, cruising permits and licenses may be extra. Please verify with clearing house.
Cruising Permit: Paid by Boat Licenses: Paid by Boat

Additional Rate Details:
GENERAL RATES NOTE:
MINIMUM NIGHTS: Charters of less than 6 nights available depending on schedule and season, please inquire.
BVI Fishing Registration #738114
No additional port fees for USVI

5-6 PAX: for families with children, or 2 couples with up to 3 children total.

JUNE-JULY 2017: Crew will be Rik and Ann, original Sandcastle owners/crew.

SLEEP ABOARD RATE:
$175 per person per night. Includes: horsd'oeuvres, snacks, sandwich upon request, bar and continental breakfast, dinner not included. Sandcastle aims to please and this option offers your client a much more relaxed start to their charter eliminating the hassle of checking in and out of a local hotel. They do ask for some flexibility on quick turns but in essence your clients receive an extra 1/2 day charter.

HALF-BOARD OPTION: Includes: 7 breakfasts, 4 lunches and 3 dinners. Other meals ashore at client expense.
2/$9,600 3/$12,750 4/$13,600

LOCAL-FARE OPTION: Includes: 7 breakfasts, 5 lunches and 6 dinners. Other meals ashore at client expense.
2/$9,750 3/$12,975 4/$13,900

CHRISTMAS/NEW YEARS:, 7 night minimum.
2/$13,420 3-4/$15,620 5-6/inquire for 6 pax with children.

* * * ONGOING HONEYMOON SPECIAL * * *
7 nights @ $9,900*
6 nights @ $8,500*
5 nights @ $7,800
4 nights @ $6,500
NOTE: * honeymoon charters of 6-7 nights receive 1 bottle of champagne per day plus one spa treatments for two; these items not offered for shorter term charters.
.
Summer Base Port: BVI, STM
Summer Operating Area: Caribbean Virgin Islands
Winter Base Port: BVI
Winter Operating Area: Caribbean Virgin Islands
Location Details:

(888) 670-6884 / (954) 980-9281



Contact Carefree Yacht Charters® about Monohull Sailing Yacht Sandcastle
E-brochure content and photos provided by Central Yacht Agent.