Catamaran Best Revenge is a 58.5 Privilege catamaran offering crewed yacht charters in the BVI. Best Revenge also has a willingness to travel to St. Maarten/St. Bart's based on her calendar. With accommodations for up to 8 guests in 4 cabins, she's a superb, high-end exclusive selection for families, couples or special occasions. Learn more by watching a short video.
Rates from $23,500 to $27,500. View full rates & availability.
For full details, call us in our South Florida office at (954) 980-9281, toll free at (888) 670-6884 or fill out our Quick Request Form.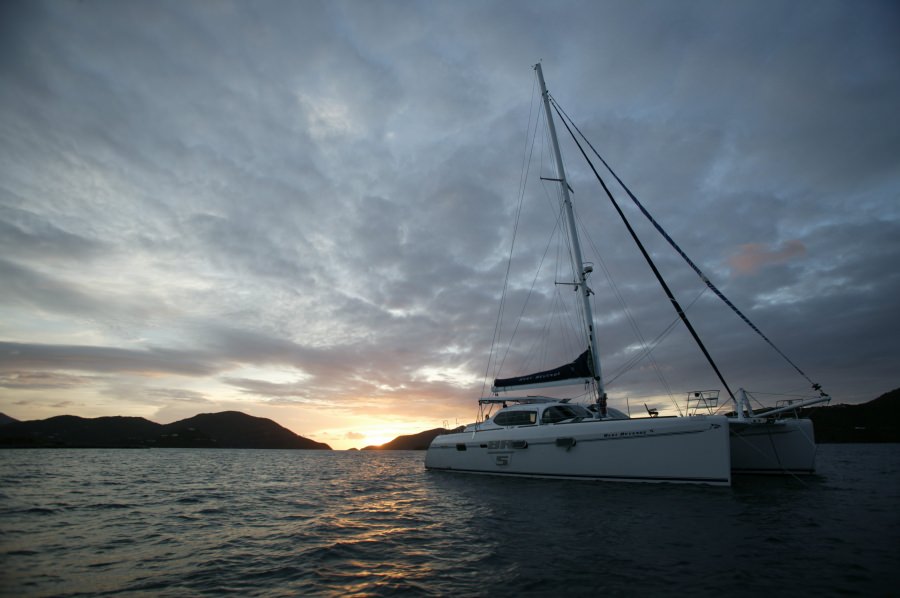 The number one priority during our design of BEST REVENGE 5 was ensuring the comfort and enjoyment of her guests. We know that not all of our guests are avid or experienced sailors - in fact, some of our previous guests had never even been on a boat before taking a BEST REVENGE cruise.

We knew BR5 would deliver an exciting sailing experience. But we saw no reason why our guests shouldn't also enjoy the comforts of home while aboard. In designing BR5, we made sure to include features that would make their stay more comfortable and entertaining, including a spacious salon with a full wet bar, a separate seating area with three single-person "comfy chairs", a dining table that converts into a cocktail table; and a state-of-the-art entertainment center with a large LCD screen; extra seating in the spacious cockpit that features luxurious thicker-contoured cushions; and easy-to-use fresh-water toilets just like those you might find at home.

Captain Nick Baxter & Chef/Mate Lucy Fletcher are two of the most gracious hosts in the business. You will enjoy luxury, comfort, and fabulous cuisine aboard BR5.

We also know that our guests want to get the most out of their escape to paradise. To that end, BR5 includes the most popular water-sports equipment, amazing audio and visual systems, and culinary offerings that are specialized to your taste.

We believe that we have created the perfect charter catamaran in BEST REVENGE 5, and that our fine crew and extensive customized features make BEST REVENGE 5 one of the most luxurious, comfortable and charterer-friendly yachts around. We invite you to come and spend a week (or more!) on board to see for yourselves.


THE SALON

As soon as you step into the interior of BEST REVENGE 5, the luxurious craftsmanship of her layout and design will become apparent. Her interior has been carefully designed to ensure the best use of the space, and the finish and materials were chosen to maximize comfort and attractive-ness. The seating includes a large couch / coffee table, as well as three "comfy-chairs", all with deep, plush cushioning covered with an upgraded UltraSuede, so you don't "stick" to the furniture when dressed in shorts, skirts or swimsuits.

The audio-visual entertainment system is as good as it gets on the water - a 45" LCD screen TV, a DirecTV satellite system, a Sony Playstation 2, a progressive scan DVD player, VCR & CD players, an iPod dock, and an impressive library of DVDs. A full wet-bar area, complete with an ice maker and drinks' fridge, is designed to cater to your every need at cocktail hour. And to absolutely insure every comfort, BR5 has an over-powered air conditioning system (zoned for each room) that will insure that you beat the heat in any weather.


ACCOMMODATIONS

Every aspect of the cabin interior has been carefully considered to provide a comfortable and spacious environment. Each of the four en-suite staterooms (two queens and two kings) feature a separate seating area with a mini-desk and independent mini-audio & video systems, and are adorned with customized embroidered linens and light, hypo-allergenic down-filled duvets, guaranteed to ensure a comfortable night's sleep. In each cabin, there is a hanging wardrobe and plenty of storage space, even for the most overzealous packer in your group!

The en-suite bathrooms are modern and spacious, with beautiful sea foam green marbleized counters. The futuristic multi-headed showers and state of the art toilets will make you forget that you are on a boat. No luxury has been spared.


THE CUISINE

Your personal chef Cat is truly an extraordinary chef. Her years of culinary experience and love of cooking will be evident in every meal that she prepares for you and your guests. She is enthusiastic about everything she cooks and offers a wide range of international cuisine in her repertoire. Her attention to every detail of each meal - from the use of fresh local ingredients to the artistic presentation - will be evident from your first meal on board. And both James and Cat complement her culinary excellence with presentation skills that would make a 3 star restaurateur jealous.

Your week's menu will be completely catered to you and your group's preferences and tastes, and Cat will ensure that all the meals that you receive aboard will be to your utmost satisfaction.

Please view the Sample Menu and pictures of Cat's culinary magic.


WATERSPORTS

BEST REVENGE 5 is fully stocked with nearly every piece of watersports equipment imaginable! There is truly something for everyone, from our towable two-man tube and beginner water skis for the kids to our high performance water skis, kayaks, paddle boards, wind surfer, and wakeboards for the more adventurous. James is a water sports expert and enthusiast and will be enthusiastic to get you in the water as soon as possible to help you learn new skills or master old ones. For those of you interested in a more relaxed pace, just grab a mask and snorkel and jump over the side to explore the many beautiful, pristine reefs teeming with fish. Or for a closer look at those reefs and sunken wrecks, we offer a custom Scuba diving package that will give you unlimited dives and a private instructor for the duration of your stay onboard. There won't be enough hours in the day for you to enjoy every water sport from BR5, but that doesn't mean you can't try.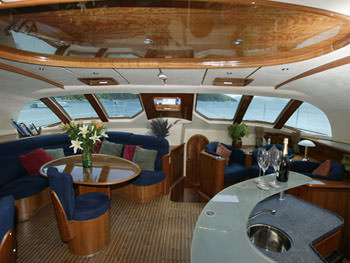 Salon Bar, Dining Table, Seating Areas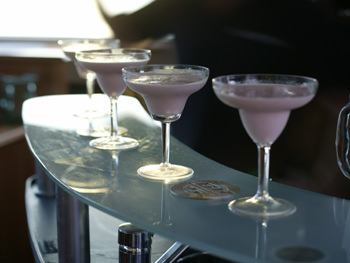 Salon Bar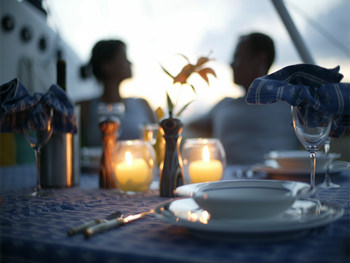 Cockpit Romantic Dining
Accommodations:
4 guest cabins (2 with kings, 2 with queens), each with full en suite heads, seating area & small desk, 1 or 2 standing closets, substantial drawer/cabinet space, and separately zoned A/C.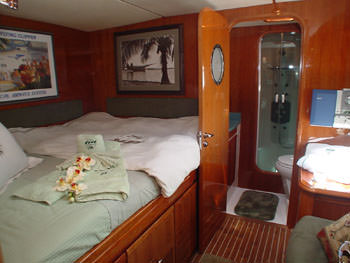 Queen Cabin #1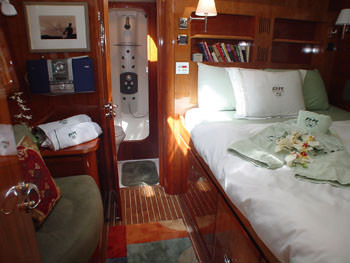 Queen Cabin #2
(888) 670-6884 / (954) 980-9281



Contact Carefree Yacht Charters® about Catamaran Best Revenge
E-brochure content and photos provided by Central Yacht Agent.