Catamaran Green Flash has accommodations for up to 5 guests in 1 Queen Master Suite, 1 Queen cabin, plus 1 forward single berth. For honeymoons, families or couples, she's a wonderful and affordable choice. Learn more by watching a short video.
Rates from $15,600 to $18,000. View full rates & availability.
For full details, call us in our South Florida office at (954) 980-9281, toll free at (888) 670-6884 or fill out our Quick Request Form.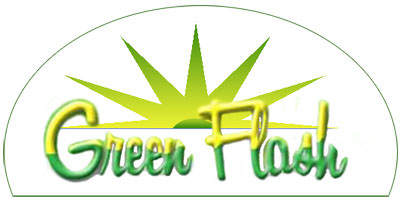 Leave beautiful Santa Barbara Harbor and set sail to Santa Cruz Island the largest of the Channel Islands. Enjoy the two and half hour sail and be sure to keep an eye out for migrating whales and pods of dolphins. As you approach this undeveloped rugged island, set anchor in Pelican Bay. Enjoy kayaking and stand up paddle boarding around the caves and kelp beds. Head back to the boat in time for appetizers and afternoon beverages while the sun sets. Enjoy another creative meal prepared by Chef Sherri with paired local Central California wines. Wake up slowly and have breakfast while watching all the sea life and birds around the anchorage. Go for a morning hike and explore some of the ruins of the Pelican Bay camp which was a very popular destination in the 1920's. Santa Cruz island has a very rich history, from the indigenous Indian inhabitants to the failed commercial pursuits of old. Pull anchor and set sail to Fry's Harbor, another beautiful unspoiled anchorage. Fry's Harbor was used as a location for many films during the early days of film making, which featured it's rugged landscape. More kayaking, snorkeling and hiking around the anchorage. Pull anchor and set sail back to Santa Barbara arriving with time to enjoy the active waterfront area.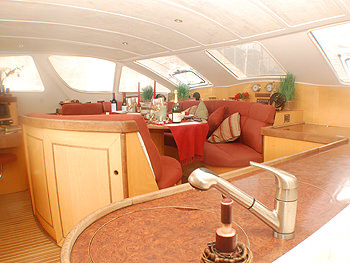 SPACIOUS SALON
Accommodations:
Accommodations - GREEN FLASH can accommodate 5 guests in 3 cabins.
The Master cabin suite has a queen size bed, large bathroom with full size shower and toilet.
The second guest cabin has a queen size bed plus a raised single bed with private full size shower and toilet.
The third cabin has two single beds appropriate for children under approximately age 15.
CREW HAS SEPARATE SHOWER AND HEAD
(888) 670-6884 / (954) 980-9281



Contact Carefree Yacht Charters® about Catamaran Green Flash
E-brochure content and photos provided by Central Yacht Agent.