Catamaran Exta-Sea is a 47' Leopard catamaran offering BVI crewed charters. With accommodations for up to 6 guests in 3 guest cabins, she's a fabulous and affordable pick for families, couples or divers.
Rates from $11,000 to $15,000. View full rates & availability.
For full details, call us in our South Florida office at (954) 980-9281, toll free at (888) 670-6884 or fill out our Quick Request Form.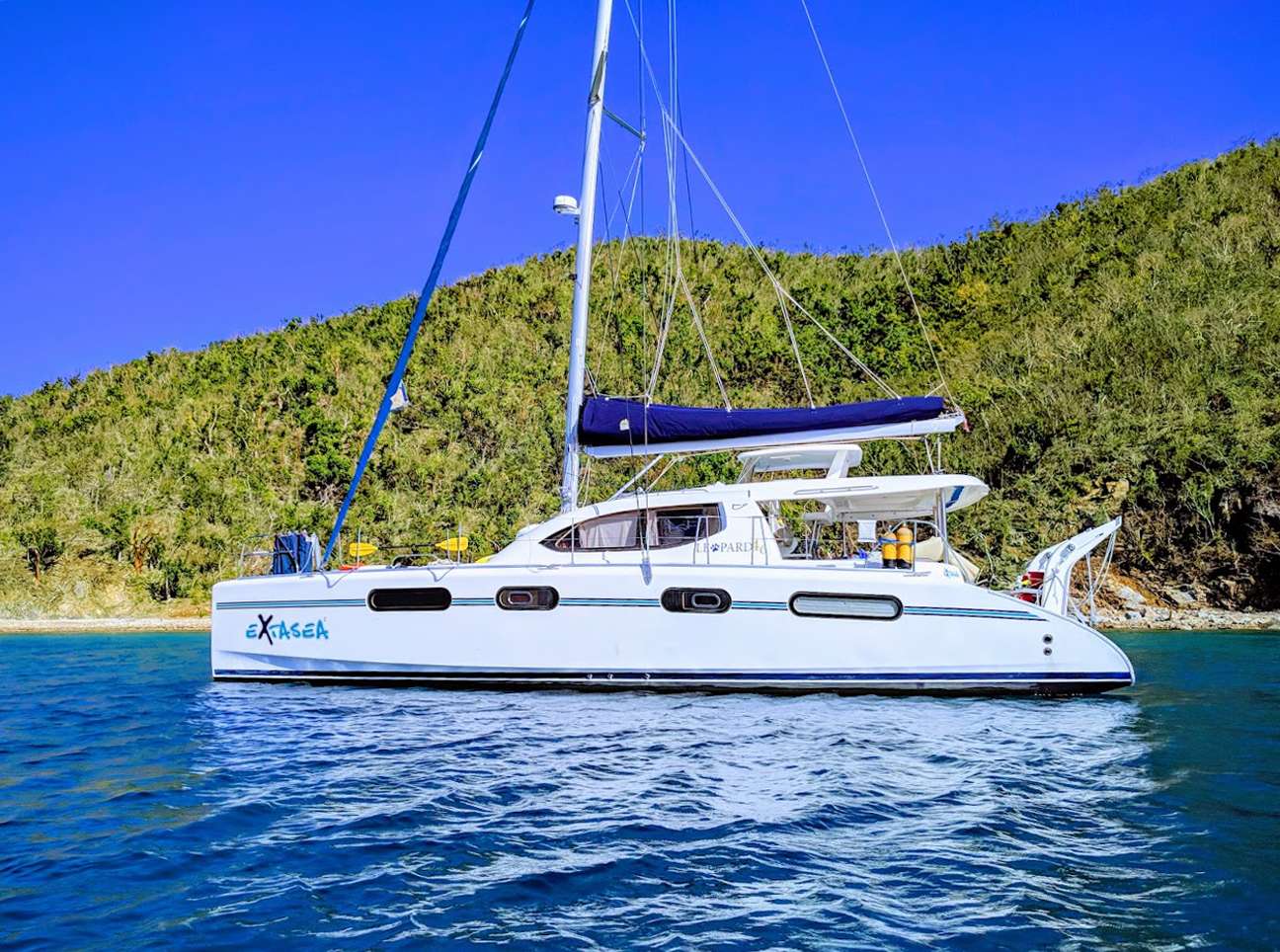 Welcome to eXta-Sea BVI Yacht Charters
Extasea operates their BVI yacht charters out of Tortola.
Beautiful Boat
Looking for an exotic getaway in Paradise - Let Mike and Lesley welcome you to Extasea a luxury "Owner Operated" Leopard 47 Catamaran, which was voted Cruising Boat of the Year.
Relaxing Atmosphere
Enjoy your dream vacation in our "Feel at Home" - friendly atmosphere, enjoying tropical drinks and fabulous food while you discover idyllic bays, white beaches, and beautiful islands.
Endless Activities
Snorkel in crystalline waters, SCUBA dive tropical reefs and famous shipwrecks, or partake in the various water-sport thrills, or simply relax and get a tan while your personal chef and skipper spoil and pamper you.
Flexible Iteninary
A BVI itinerary is extremely flexible and the cruising grounds present a myraid of opportunities. Let us show you a good time in the islands. There's an array of exciting things to do within the islands,and a range of fabulous Caribbean beaches to enjoy, each with its own special character and vibe.
Together with your skippers advice, we will plan a holiday of a lifetime according to where your wishes and the weather takes you.
Accommodations:
QUEEN PORT AFT
QUEEN PORT FWD.
QUEEN STAR FWD.

(888) 670-6884 / (954) 980-9281



Contact Carefree Yacht Charters® about Catamaran Exta-Sea
E-brochure content and photos provided by Central Yacht Agent.