Catamaran London Sky is a 2015, 62' Lagoon catamaran offering BVI crewed yacht charters. With a fly-bridge deck and accommodations for up to 8 guests in 4 Queen cabins, she's a wonderful mid-range, luxury choice for families, couples, or special occasions.
Rates from $28,000 to $33,000. View full rates & availability.
For full details, call us in our South Florida office at (954) 980-9281, toll free at (888) 670-6884 or fill out our Quick Request Form.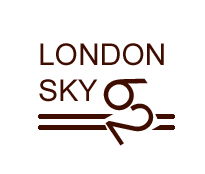 LONDON SKY GUESTS COMMENTS
14th April 2017
Dear Heather (Broker)
I can't even put into words what a great time everyone had. I think the biggest surprise was the gourmet food served daily. We expected good food, instead it was outstanding. On top of that, the crew were a delight to sail with. We really liked Kate and her energy, she was so accommodating to everyone. I have already passed your name onto a couple of friends who have an interest in the boat. I told them there would be a change in the crew but assured them the London Sky would only get a great crew going forward.

Thanks so much for all your help to make our trip a memorable experience. I can't think of a thing they could do better, it was picture perfect!!

Sandie
June 2016
We had a fantastic time. It was everything we dreamed of.

Ryan was a great captain that always found great spots to anchor and was always willing to take us to shore on dingy anytime we wanted. He took my son on his first dive ever and was very good at that as well.

Maroussia is a very talented chef and made each meal special. Her efforts were greatly appreciated. For our anniversary day the fruit for breakfast was heart shaped and the dessert at night had sauce around the chocolate lava cake heart shaped as well!

Roma was such a sweet person and she catered to our every needs. She made great drinks, set a beautiful table for each meal (and it was always different) took care of our rooms plus much more! We all enjoyed her very much.

The London Sky was the most beautiful catamaran in the Caribbean! We loved the beautiful underwater lights at night, the abundance of toys (especially the slide!), the fly bridge, the spaciousness of the boat and the sleeping accommodations! My only issue was worrying about messing something up on boat! It is top notch and we were the envy of many!

Thank you again for everything!

Susan

February 2016
Dear Ryan and Maroussia,

I hope you are well.
I took a while, but finally I received feedbacks from Alicia. Thank you once again for taking such a great care of my Client. I believe that shortly we will fix the dates of her next charter on LONDON SKY.
"Wow, where do I start with feedback for London Sky? Out of all the spectacular charters we have done, LONDON SKY by far was the best of all trips rolled in to one.

Food, Drinks and table decor- 5 STAR
Attention to detail- 5 STAR
Service and attentiveness- 5 STAR

As we plan to sail the BVI's this upcoming year as we always do.....I'm not sure another vessel could TOP anything LONDON SKY had to offer, simply unbelievable on all levels. We will be certain to charter with them again on our upcoming vacation.

Thanksgiving 2015
We had a wonderful trip. The boat was incredible and crew was off-the-charts incredible. Wonderful service! And the chef was absolutely amazing. Also, if you could pass along to the owners that the captain was absolutely meticulous with their boat. It was a perfect 10 vacation. Thank you, thank you, Wendy

ps. Thought you would appreciate this photo of my brood. Yes, I worked at a summer camp hence the tee shirts + funny hats! ha!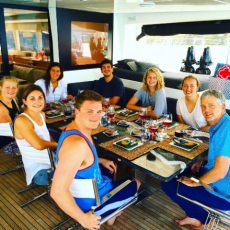 JULY 2015
Just a short note to tell you that we had a fantastic time on London Sky. The crew was great - Maroussia and her cooking were fantastic. The yacht itself was very comfortable and had all the toys we wanted. I can certainly recommend this yacht and team.

Thank you for all your assistance and for helping us have an incredible vacation.

Rgds

Francois

June 2015
Everyone enjoyed London Sky and her crew very much. They really liked the boat. When we first got there my wife and daughter couldn't believe how big it seemed and were ecstatic. I think they believed we were going to cruise on something the size of my Island Packet 485!

The accommodations were great. Everyone seemed to sleep well. Cayley kept the cabins tidy, and she couldn't do enough for us.

Maroussia's cooking was delicious, and well presented. She is very sweet and very accommodating, as well.

Ryan is a great skipper. Not only did he get us everywhere comfortably, picking good anchorages, but also did a great job making sure the kids had a lot of fun. They used most of the toys, and the boys got a very proficient first lesson/experience in scuba diving from Ryan. My wife, Joy, had an issue with her legs cramping while swimming back to the boat. Ryan was right there to pull her out of the water. He took great care of us.

We all are really pleased with our voyage on London Sky.

Over all I will definitely do this again, especially if Ryan is skipper. We all will highly recommend London Sky and her crew to our friends.

All the Best,

Hugh
(888) 670-6884 / (954) 980-9281



Contact Carefree Yacht Charters® about Catamaran London Sky
E-brochure content and photos provided by Central Yacht Agent.