Catamaran Braveheart is a 58' Simonis catamaran offering BVI crewed yacht charters. With accommodations for up to 9 guests in 4 cabins and 1 single berth she's a fabulous, mid-range luxury choice for families, couples or divers. Learn more by watching a short video.
Rates from $20,000 to $23,750. View full rates & availability.
For full details, call us in our South Florida office at (954) 980-9281, toll free at (888) 670-6884 or fill out our Quick Request Form.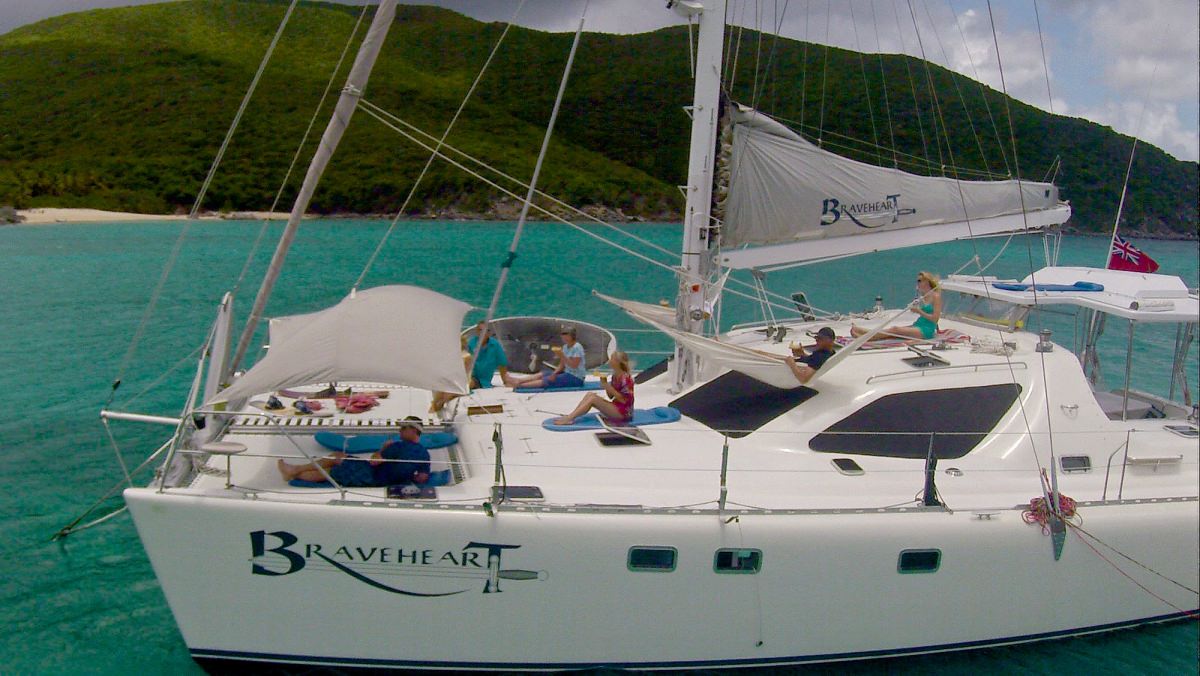 Braveheart specializes in Scuba diving and has 4 equal queen staterooms. We can take up to 9 guests and we love couples, families or even 3 generations. Birthdays and anniversaries are special on Braveheart. Children are welcome and we offer lots of watersports to keep you involved in all the action, or just relax in the hammocks or a floating mat and watch the world go by.
Explore the tropical wonders of the virgin islands aboard the 58ft catamaran Braveheart, an all-inclusive, luxuriously appointed, well equipped, modern live aboard dive boat. We accommodate 5 to 9 guests in fully air conditioned comfort. The chef tailors the gourmet menu to your personal choices of cuisine. Relax whilst sipping a Caribbean cocktail in an idyllic anchorage and enjoy the sunset. Learn to scuba, windsurf, wakeboard, waterski, kayak, or fish, right from the boat. Braveheart has all of the modern conveniences, such as scuba compressors, water maker, ice machines, wifi, and en-suite a/c, to be self sufficient and allow us to cruise without hampering your vacation time. The four private staterooms, each with en-suite dry head, electric toilet, and separate shower, and in room entertainment systems, accommodate up to eight guests. There is a single bunk for the ninth guest on the port side amidships. The 4 staterooms and single bunk make Braveheart perfect for 4 couples or 2 families with children to enjoy in spacious comfort. Crew quarters are to starboard midships with their own separate head & shower and 2 forward bunks with a separate deck entrance. There is an additional hot and cold water transom shower on the aft deck. Relax on the trampoline gazing at the stars and enjoy the vacation of a lifetime.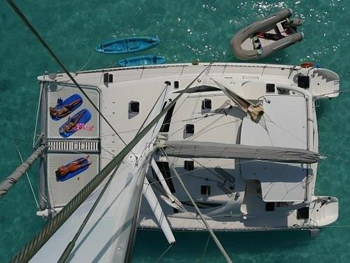 Lots of deck space to sunbath, lye in the hammock, or use all the toys
Accommodations:
On Catamaran Braveheart, all 4 cabins are equal in size and accommodations. The berths are mirror images of each other side to side; the Starboard and Port Forward Cabins are the same and the Port and Starboard Aft Cabins are the same. In addition there is a single berth on the port side midships that accommodates the 9th guest.
(888) 670-6884 / (954) 980-9281



Contact Carefree Yacht Charters® about Catamaran Braveheart
E-brochure content and photos provided by Central Yacht Agent.