Catamaran Xenia 74 is a 2012, 74.5' Privilege catamaran offering crewed yacht charters in the BVI and US Virgin Islands. With a fly-bridge deck and accommodations for up to 8 guests in 1 Master Suite plus 3 additional cabins, she's a phenomenal, high-end exclusive selection for families, couples or special occasions. Learn more by watching a short video.
Rates from $37,350 to $47,500. View full rates & availability.
For full details, call us in our South Florida office at (954) 980-9281, toll free at (888) 670-6884 or fill out our Quick Request Form.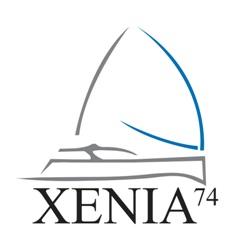 Previously named Lady Alliaura 2

XENIA 74 GUESTS COMMENTS
May 2017
Gareth, Kristine and Jesse,

We cannot thank you enough - what a week!
It honestly could not have been ANY better! And YOU ALL could not have been any better!
It was a magical week that we will all remember forever!

Gareth/Kristine - you two are incredible and make such a great team! You were so kind, flexible, upbeat, fun, and so dedicated to making this trip so special for all of us.
You put so much thought into every special spot that was picked, you were always so game to put every toy in, take us on any activity (snorkeling, water skiing, the bubbling pools),
get us anything, help with anything, and in general were just there 200% to help us all have the best time.
The swing you got to lower my mom into the water (give then she has her feeding tube and can no longer swim), so she could touch the water, get her feet wet,
and be part of the action. She absolutely LOVED it! And we are still awed by your consideration and kindness to have thought of this.

Gareth - you are a fantastic captain! It is such a beautiful boat and you manage all of it so well.
We all loved that you love to sail that boat - even if just a short little trip, you always got us under sail - it was wonderful!
And you and Kristine are such a skilled and competent team when it comes to handling that boat - you both do it with such
ease.

Kristine - we were blown away by your food. 5 stars for every meal! Honestly, we couldn't wait to see what would come out next.
You are incredibly talented. Thank you!!!!

Jesse - always had a smile and was so eager to help, bring us anything, etc. He was great!

The boat - it is perfect! I could not imagine finding a better boat - nor possibly needing for anything else.
You all have thought of every single detail. The rooms are so spacious and beautifully appointed.
The showers are amazing. There are a million different spots on Xenia to enjoy the view, read a book, drink
a cocktail, etc. The table, linens, etc. all beautiful.
The boat has every toy that one would want.
And, the boat was always so incredibly neat - the lines, the floors, our rooms, etc. Wow.
The drinks, the fresh squeezed juices, I am missing all of this!

Anyway, I could go on and on.... But, in short, it was a trip of a lifetime!
Gareth and Kristine - you are a very special team and are are clearly just great people.
I feel like most crews would have been a little put off by my dad's age or my mom's illness. Not you both.
You just went out of your way on every front to show them (and all of us) the time of our lives.

I really hope to get to spend a week again on Xenia with you all. It was incredible!!
In the meantime, I will definitely get the word out with my SF network/friends...

All the best,

Amanda
December 2016 Broker Lunch on board Xenia 74
Happy New Year!

I know that I thanked you in Antigua, but I have been meaning to send something more detailed. I'm now on a plane to St. Thomas and have a moment to be civilized again. No internet, no phones, holiday charters over.

The lunch on Xenia was the most impressive that Brad and I enjoyed at the Antigua Show. And that says a lot because we dined on a few yachts that charter for $200-400,000 a week with professionally trained chef and tons of crew to assist.

What you were able to pull off despite your provisions not arriving was amazing. Not only that you served two complete 3-course meals. Who knew that vegan could look so beautiful? I'd become a vegan if you could cook for me everyday.

As always, Xenia 74 was impeccable and a superstar in her class.

We enjoyed hearing about your adventures especially the free diving. It's still not in my bucket list, but I got a whole new appreciation of it.

As always, a pleasure to spend time with you. And I wish you a New Year of great health, lots of laughter and much love in your lives.

March 2016
This charter was far and away above our expectations. Gareth and Christine were absolutely fantastic in every way. Gareth was a great captain and made us feel safe and comfortable at all times. Christine created a culinary experience that is impossible to put into words (mostly because my mouth was always full!). The yacht was clean and felt like it was brand new. I highly recommend the Xenia 74 to anyone.
New Years 2015/16
Gareth, Kristine, Susie & Julienne,

Thank you all so much for an absolutely wonderful week. The food was AMAZING and the hospitality so welcoming. Thank you for putting up with our antics, our very large appetites and late night dance parties. This has been the best way to ring in the New Year & we are all leaving feeling rejuvenated and maybe just a few pounds heavier:) Thank you for everything!

Happiest of New Years! Ken, Matthew, Max, Bo, Julia, Walker Cynthia and lauren.
December 2015
To Gareth, Kristine and Julienne,

Thank you all for a fantastic week! Every minute was a perfect and exactly what we needed.
We are going home with bi smiles, well rested and huge tummies.

Best of luck to all of you, happy holidays and hope to see you again soon.

Paul, Jan & Jerrianne




October 2015
Gareth & Kristine,

Where do we begin! This was our dream two years ago & we actually experienced it. You both made it fabulous! Words can't describe the awesome experience we had! Keep up the good work and we also hope to see you again on board!

Barbara and Brad

Gareth & Kristine,

Really, there are no words to describe how amazing this vacation was. One of our very best ones ever! You made us feel like friends, not just guests & crew. In that spirit we INSIST that you visit us in California so we can wine & dine you and take you fishing on our boat! There is a yellow fin Tuna or Dorado with your name on it!

We can't wait to come back in March/April with the family and make even more incredible memories.

Kent & Lisa

February 2015
Being boaters and loving the water, we dreamed of a caribbean adventure in the British Virgin Islands to celebrate our beloved husband and fathers 70th Birthday. Our dreams came true on the sleek, elegant, relaxed and secure Xenia catamaran.
The Yacht, salon and staterooms far exceeded our expectations and were more like you would find on a boutique cruise ship, linens and amenities superior. the lustrous teakwood thorough out glowed with a honey hue, rich and warm,
as were the crew.
Gareth the perfect host and admirable and steadfast captain, keeping us in calm and silky azure waters and picturesque beaches and ports, no cruise ships in sight.
Kristine, the consummate hostess and chef, created epicurean delights from scratch with just the right fusion of sweet and savory, perfect medley of nutrition and flavor. The table was set elegantly each night with an array of colors and designs.
We expected a great trip but they both went above and beyond even taking underwater pictures of the family with colorful sea life making our experience a Magical Trip of a Lifetime.
Thank you, Champ, Peggy Sue, Casey, Christine, Gary, Juliet, and Emily
New Year 2014/15
Me and my family are one day back from the best family vacation of my life and want to thank you for your help in arranging a fantastic trip and connecting me & my family with Gareth and Kristine. Having never chartered a boat before, I wasn't sure what to expect but what I do know is that Xenia is a tremendous yacht and much more importantly, Gareth and Kristine are tremendous. They are true professionals who struck an incredible balance of knowledgable boat captains, safety marshals, incredible chef (Kristine in particular) sailing instructors, friendly yet firm when needed with kids, and generally very conscientious about all of our needs from drinks, to scuba, to water skiing, etc. We all would want them to join us in any game or event as they were so fun and interesting to be with. While always flexible, they also always had a good plan in place with several options depending upon our prevailing desires and energy level. Additionally, I had a personal goal of learning some sailing details and Gareth would continue to ask me to participate and show me aspects of sailing this beautiful boat when I'm sure it would have been easier to do it all himself.

While I haven't chartered before, I am also in the service business and I know they delivered tremendous, world class service and as such I hope I have the opportunity to work again with you and your company and will hope to have the good fortune of seeing Gareth & Kristine again in the future.

Many thanks,
Topher Callahan

Christmas 2014
We are out of words to express what a wonderful charter you put us in. First Gareth and Kristine are extremely fun and professional. Never before have we had 17 exquisite meals in a row. What an accomplishment!
The boat has a beautiful teak interior and is kept in mint condition.
Activities were numerous and fun for both generations in our family.
Each of us has voted for their individual preference:
Flexibility in schedule (Vanessa)
The anchoring locations (Maria)
The views (Ana)
The sailing part and helping with the sails and anchor (Nick)
The Soggy Dollar (Olivier)
Water skiing and hiking in Salt Point (Helena)
Kit surfing and the Bitter End (Phil)
Seeing the entire family so very happy (Jose)
We could go and on but we don't want Gareth to get too much of a big head, ha.
Thanks for creating these memorable moments for all of us
We wish you the very best
From all of us
The Cortes family

December 2014
We loved everything about Xenia: The boat design, the comfortable cabins, the sailing, the lovely beaches, and above all, Garreth & Kristine attention and friendliness. Every moment was perfect, the food was wonderful, words cannot describe this magical week.
We will be there again next May and it is our intention to repeat the cruise on December 2015.
This was the best of our eight catamaran trips.
Best Regards,
Fernando, Marcia, Antonio, Irma, Marcio, Claudia, Luiz & Lucia.

JANUARY 2014
Gareth and Kristine,
Each time we come back to the BVIs we think, how could this trip top the last one. Well you succeeded. The food stood out as the best EVER! The sailing on perfect winds was the best ever! Because everything was seen to by you guys we were truly able to relax, play games, and enjoy our family vacation. It is so difficult to disembark, but know that a little piece of each of us will remain with you.
Thank you for helping me make this our best trip yet. Hopefully we will see you again soon. Until then, our prayers and best wishes for safe travels and a wonderful life
Your friends,
The Texas C's.

JANUARY 2014
Kristine and Gareth,
Our deep and sincere thanks for creating a spectacular memory of such a beautiful place. From Normal Island, Peter Island, New Years with you, and Anageda, it was all spectacular.
The food, your skills and sailors and hosts, and all you did for us were much appreciated.
Thanks, may fair winds always bless your way
Larry

NOVEMBER 2013
Gareth and Kristine,
I found myself wondering how I could make all this wonderful adventure continue! You both are consummate professionals with great poise and style to boot. Karen and I will remember your great care an attention for many years to come! It is rare to not have any complaints about a vacationeverything was perfection. Kristine, your culinary creations could stand with the best restaurants and your attention to individual preferences was superb. Gareth, it was very clear early on our voyage that you love sailing and are an expert in all aspects of seamanship. You guys are a great team and we felt like royalty under your care. We love you guys
Bill and Karen
(and what a cute couple you are!)
30/11/13

NOVEMBER 2013
Gareth and Kristine,
Thank you so much for an amazing trip! Gareths love of sailing was wonderful to see and made this a true sailing adventure. Kristines contribution to the trip was unbelievable- the meals coming from the galley-everyone- was beyond wonderful! Especially considering she had to deal with two children (that eat nothing), a vegetarian, and a gluten free in the group- truly an amazing feat!
Thanks both of you have made this wedding trip for my son the best we have ever had.
Ric and Sue

Wedding charter
NOTE: Guest comments from last boat Gareth and Kristin were on by the name of BLISS.

Thank you so much for such an amazing trip!!!It was so much better than we could ever have hoped for, and not just because it was Marc and Mels wedding, but in large part because of your expertise in matching each group with the right boat and crew. All the yachts were spectacular and everyone really praised their crews all week. However, I need to put in a special plug for Gareth and Kristine on Bliss.

Ric and I have done several charters in the past, from bare boating to crewed and NONE came close to this trip. From the moment we stepped on board all our expectations were surpassed.

Though Bliss is a gorgeous and extremely comfortable catamaran, my biggest praise for the success of the trip goes to the crew themselves.

Gareth takes great pride in Bliss and keeps her in pristine condition. He really went out of his way to make everyone feel safe especially while trying new activities.my young grandchildren and a close friend learned to snorkel on this trip and he was always right alongside with the dingy to ease their fears. His love of sailing and knowledge of the area made for a great trip. We routinely sailed more than the other boats in our group and he brought us to a few different spots he knew we would enjoy when the itinerary with the others allowed. One night we moored at Monkey Point.we were the only ones there, the stars were spectacular and snorkeling was the best of the trip.

Poor Kristine had her hands full with our group (2 children that eat nothing, 1 vegetarian, and 1 no flour and sugar).Somehow she came up with the most amazing meals that fit our restrictions and that EVERYONE loved, even the kids ate better than I have ever seen. Ric was particularly impressed with all the desserts and sweet extras she made like greeting us with fresh chocolate chip cookies when we came back from a swim. Kristine is truly a top notch chef and her meals were better than most high end restaurants. I really wanted to take her home with me.

But most of all EVERYTHING they did for us they did so willingly and with a smile.like it was no problem at all. They were both great with the kids and us oldies too.They just made us all feel special and pampered all week. Gareth and Kristine are an exceptional team and are a great asset to Bliss.


NOVEMBER 2013
Dearest Gareth and Kristine
Thank you is an understatement. You both treated me like royalty and were so patient and kind looking after the non sailor and at time non swimmer. I will have to go to the tailor to add inches to my waistband the food sun, wind, and laughter will be remembered always. Thank you both ever so much and I thank the yacht, she is a lovely ship and she kept us safe and sound.
Happy sailing, love you all
Colleen

NOVEMBER 2013

Kristine and Gareth
Thank you for your tireless efforts, perfect route, perfect food, perfect dives, perfect snorkeling, and perfect chef.
Please take care of our heart, it will be with you.
Certainly we will return and we will never forget this wonderful trip
Best Wishes, Love, Be happy and Take Care
Sergio

NOVEMBER 2013
Kristine and Gareth
Thank you for the wonderful trip. Everything was perfect! The itinerary, the food, the activities, and especially the attention and care we received. We will see you next year
Marci S.

JULY 2013
Gareth and Kristine
Thank you for an awesome week! Both of you went out of your way to take special care of us. The children will never forget the tubing, cooking, snorkeling, kayaking, and detailed attention they received. We wouldnt think of chartering a boat again without you. Great Lobster!!!!!
See you next time
Anna and Jose

(888) 670-6884 / (954) 980-9281



Contact Carefree Yacht Charters® about Catamaran Xenia 74
E-brochure content and photos provided by Central Yacht Agent.