Catamaran Xenia 74 is a 2012, 74.5' Privilege catamaran offering crewed yacht charters in the BVI and US Virgin Islands. With a fly-bridge deck and accommodations for up to 8 guests in 1 Master Suite plus 3 additional cabins, she's a phenomenal, high-end exclusive selection for families, couples or special occasions. Learn more by watching a short video.
Rates from $41,500 to $47,500. View full rates & availability.
For full details, call us in our South Florida office at (954) 980-9281, toll free at (888) 670-6884 or fill out our Quick Request Form.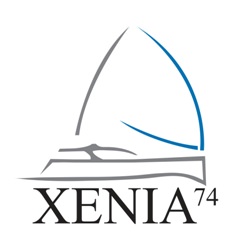 Previously named Lady Alliaura 2
XENIA 74 SAMPLE MENU
Breakfast
Layered Cheese Strata with Prosciutto, Basil, and Spinach
Tarragon Herbed Breakfast Tart with Gruyere, Mushrooms, and Sunny Side Up Eggs
Italian Style Frittata with Tomatoes, Green Chilies, and Garlic Feta Cheese
Scandinavian Cured Salmon with a Three Herbed Cream Cheese and Toasted Bagels
Oven Baked French Toast with a Banana Center Served with a Strawberry Orange Syrup
Classic Eggs Benedict with Canadian Bacon, Toasted English Muffins, and Hollandaise Sauce
Breakfast Parfaits with Layers of Agave Sweetened Greek Yogurt, Fresh Berries, and a Homemade Almond and Coconut Granola
*All Breakfasts Include Fruit Platters, Freshly Baked Pastries, and a Selection of Cereals and Yogurts*
?
Lunch
Red Snapper Tacos Served in Flour Tortillas with Roasted Tomatillos and Chipotle Peppers, an Avocado-Papaya Relish, and a Tomato Sour Cream Salsa
Cider Marinated New York Strip Steaks, Grilled and Served with a Fresh Spinach Salad, Tangy Green Apples, and Imported Gorgonzola Cheese with a Maple Based Vinaigrette
Crab Cakes Served upon a Bed of Fresh Garden Greens with Avocado, Cucumbers, and Cherry Tomatoes all Drizzled with a Sweet and Tangy Red Pepper Vinaigrette?
Sesame Seared Ahi Grade Tuna Fillets Served upon a Bed of Seaweed Salad Accompanied by a Sweet and Spicy Wasabi Ponzu Sauce and Coconut Pistachio Basmati Rice
? Grilled Chicken Breasts Marinated in a Balsamic Fig Sauce and a Red Quinoa Salad with Fennel, Gouda Cheese, Walnuts, Apple, and Cranberries
Pad Thai: A Fusion Version of a Classic Thai Dish with Cilantro Lime Saut??ed Shrimp Tossed in with Peppers, Shallots, Rice Noodles and a Sweet Soy Sauce
Zesty Lemon Chicken Breasts Accompanied with a Pesto Pasta Salad and Warm Pita Bread
?
Hors D?€ oeuvres
Spicy Tuna Tartar on Wasabi Rice Crackers
Marinated Feta and Olive Skewers with Cucumber and Mint
Smoked Salmon Cucumber Rolls
Gorgonzola and Fontina Nachos with Fennel and Mint
Mediterranean Pizza with a Garlic Hummus Base, Olives, Roasted Red Peppers, Artichokes, and Feta Cheese
Asian Style Calamari Salad
A Trio of Bruschetta: Tomato Basil, Balsamic Mushrooms, and Olive Tapenade
?
Entrees
Orange Ginger Marinated Pork Tenderloin Grilled and Served with a Sweet Potato Puree Drizzled with a Maple Syrup Reduction and Garlic Carrots
Asian Influenced Grilled Mahi-Mahi with a Green Chili Coconut Sauce Accompanied by Rice Pilaf and Spicy Ginger Soy Seared Green Beans
Lemon Spiced Salmon Fillets Broiled and Served with a Moroccan Date Couscous and a Garlic Zucchini and Squash Medley
Sizzling Grouper Fillets with Spring Onions and Ginger Shards Atop a Bed of Oven Roasted Asparagus and White Rice
Spicy Port Wine Marinated Beef Tenderloin with Creamy Mashed Potatoes and Honey Mustard Broccoli
Chicken Cordon Bleu with a Crunchy Garlic Thyme Crust Accompanied with Wild Rice and Balsamic Roasted Cherry Tomatoes and Peas
Caribbean Spiny Lobster with Spaghetti and a Creamy White Wine Sauce
?
Desserts
Vanilla Cr??me Brulee
Grapefruit Granita with a Mango Mint Topping
Chocolate Fondant with a Whipped Topping and Homemade Carmel Sauce
Coconut Cr??me Pie in a Graham Cracker Crust
Homemade Chocolate Truffles with Vanilla Chocolate Martinis
Warm Baked Apple Crisp with Vanilla Ice Cream
Brie Smothered in Raspberries and Baked in a Flaky Pastry Topped with Brown Sugar and Served with Apple Slices?
(888) 670-6884 / (954) 980-9281



Contact Carefree Yacht Charters® about Catamaran Xenia 74
E-brochure content and photos provided by Central Yacht Agent.