Catamaran Pentesilea II has accommodations for up to 8 guests in 4 Queen cabins. For families, couples or divers, she's an affordable and popular pick. Learn more by watching a short video.
Rates from $12,400 to $15,950. View full rates & availability.
For full details, call us in our South Florida office at (954) 980-9281, toll free at (888) 670-6884 or fill out our Quick Request Form.


Pentesilea II was built with two things in mind; Luxury charter and performance. While most modern catamarans are plain white fiberglass inside and out, Pentesilea's interior is finished in a beautiful Teak wood and varnished Cherry. One of the very few Catamarans of her size to offer four guest cabins, Pentesilea II has just about every modern comfort and convenience you will find in your home. Ensuite electric heads and showers, Air Conditioning, Bose stereo system, a large flat-screen television and cellular internet are only a few of her many features. Fast and sleek, she comfortably glides through the sea at up to 15 knots!

Although the interior saloon and cabins are comfortable and beautiful, Pentesilea II adheres to the idea that sailing vacations are meant to be enjoyed outside and her deck plan shows it. The main dining table can comfortably seat 8 and stays dry in all weather. The large outdoor cockpit can easily accommodate 10 or more people and there are loads of places to lay back and relax. Two sun-mats on either side of the cockpit can take a couple each and the hammock-like bow trampolines can take the whole gang. The two bow seats offer a thrilling ride!

Pentesilea's dinghy, or 'Penny' as she is referred to is a 15 ft. Caribe with a 50 HP engine. Penny is very large for Pentesilea's size and will ensure that you get to shore fast and safe. Not to mention how much fun you will have when all the water toys come out!

Pentesilea II - As a charter boat, she is tried and true and one thing is for certain: Her guests are always happy with their choice.
King:
Double:
Single:
Pullman: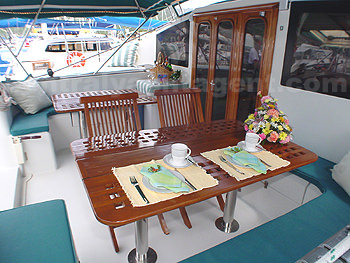 Deck dining
Accommodations:
Accommodates 8 guests in 4 equal double Queen cabins with en-suite heads and AC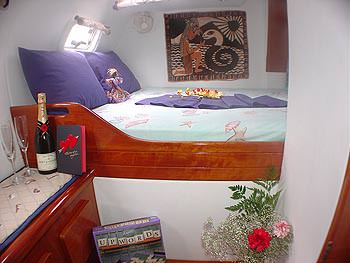 Double Cabin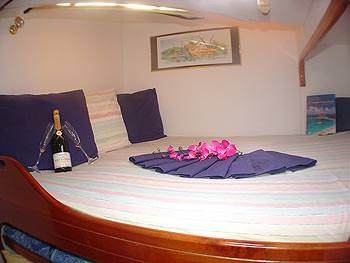 Double Cabin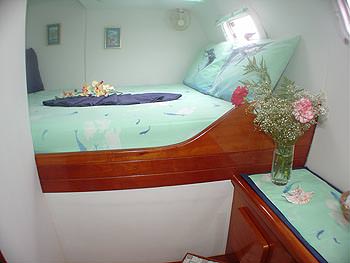 Double Cabin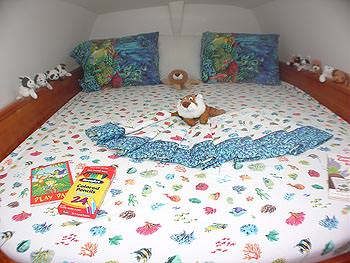 Kids Kingdom
(888) 670-6884 / (954) 980-9281



Contact Carefree Yacht Charters® about Catamaran Pentesilea II
E-brochure content and photos provided by Central Yacht Agent.