Catamaran Nenne is a 2017, 67' Fontaine-Pajot catamaran offering crewed yacht charters in the BVI in the Winter and Bahamas in the Summer. She features a fly-bridge deck, award winning crew, on-board diving and diving instruction, and accommodations for up to 10 guests in 1 Master King Suite, 3 Queen cabins, plus 1 Twin cabin (convertible to King on request). Catamaran Nenne is a Carefree Yacht Charters high-end, exclusive selection for families, couples, divers, foodies, or special occasions.

Here's what Donald & Audrey told Carefree Yacht Charters about their "fun factor" aboard Nenne: "Donald is the comedian and story-teller on board and he loves to lead the way in all the fun activities, which include: hiking, snorkeling, scuba diving, beach activities and more! I love to interact with our guests!"
Noteworthy Details: Nenne and her multi-award winning crew of Donald & Audrey took the award for "Best Multihull over 57 Feet" at the November, 2018 crewed charter yacht show in the BVI.
Rates from $40,000 to $46,000. View availability and rate details.
Contact Us
To learn more about this crew or for further details about NENNE, call us in our South Florida office at (954) 980-9281, toll free at (888) 670-6884 or fill out our Quick Request Form.
What Our Carefree Clients Said About Us
A family that we booked aboard 67' Catamaran Nenne for Christmas, 2017 said: It was, as I am sure you are not surprised, amazing. Beyond amazing. Thank you for your role in helping us set it up, and for getting us onto the Nenne with Donald and Audrey after the hurricane. We would without question use Carefree Yacht Charters again. When I read a review, I always want to know - Would you recommend it to a friend? And would you do it again? Both, yes, a thousand times yes. Without hesitation. We thought this trip was going to be a once in a lifetime experience. But having now been on it, we now know that is not acceptable, there is no chance that once is enough, and are now just figuring out how and when to do it again. Jennifer B., Washington State
Season
Passengers
2
3
4
5
6
7
8
9
10
11
12
Summer 2019
$40,000.00
$40,750.00
$41,500.00
$42,250.00
$43,000.00
$43,750.00
$44,500.00
$45,250.00
$46,000.00
$0.00
$0.00
Winter 2019 to 2020
$40,000.00
$40,750.00
$41,500.00
$42,250.00
$43,000.00
$43,750.00
$44,500.00
$45,250.00
$46,000.00
$0.00
$0.00
Summer 2020
$40,000.00
$40,750.00
$41,500.00
$42,250.00
$43,000.00
$43,750.00
$44,500.00
$45,250.00
$46,000.00
$0.00
$0.00
Winter 2020 to 2021
$40,000.00
$40,750.00
$41,500.00
$42,250.00
$43,000.00
$43,750.00
$44,500.00
$45,250.00
$46,000.00
$0.00
$0.00
Price Details
Bahamas charter rates + 4% Govt tax = total amount: 2 Pax - $ 38,461.54 = $ 40,000.00 3 Pax - $ 39,182.69 = $ 40,750.00 4 Pax - $ 39,903.85 = $ 41,500.00 5 Pax - $ 40,625.00 = $ 42,250.00 6 Pax - $ 41,346.15 = $ 43,000.00 7 Pax - $ 42,067.31 = $ 43,750.00 8 Pax - $ 42,788.46 = $ 44,500.00 9 Pax - $ 43,509.62 = $ 45,250.00 10 Pax - $ 44,230.77 = $ 46,000.00 Christmas week 8 pax MIN rate plus 10% premium New Years week 8 pax MIN rate plus 15% premium All rates are for 7 nights, 8 days. To prorate these rates: For 6 nights divide weekly rate by 7 and multiply by 6 For 5 nights or less divide weekly rate by 6 then multiply by number of nights. Caribbean Delivery fees - return trips: SXM to Antigua - $2,000 SXM to BVI - $2,500 SXM to Grenadines - $4,000 Please inquire for delivery fees to other islands Bahamas Yacht Relocation fees: $2000 Nassau - Georgetown each way $1750 Normans Cay - Georgetown each way $1000 Staniel Cay - Nassau or Georgetown each way Please inquire if a Nassau or Georgetown pick up/drop off is required as this may affect the boat's schedule with other charters. SPECIALS for weekly charters only:*** $250 discount per child aged 12 and under, up to 2 children Repeat clients - 5% reduction For charters booked more than one year in advance - 5% reduction! ***Only one special can apply, no discounts apply for Christmas or New Year's charters. Nenne uses an insurance approved charter contract - please ask for a copy when booking.
To find the best dates for your charter, call us in our South Florida office at (954) 980-9281, toll free at (888) 670-6884 or fill out our Quick Request Form.
Calendar
Highlighted dates are booked, on hold, or unavailable. We may be able to challenge the dates on hold. Please contact us for details. All other dates not highlighted are available. You can use the arrow icons to navigate through the months.
Dates Color Key
If no color is noted on calendar or in the detailed list below, the dates are available for your charter. Dates can change quickly, so please contact us as soon as possible to begin booking your charter. Highlighted colors mean:
Booked (Booked by another client group already)

Hold (Held by another client group, not yet booked, and can be challenged)

Unavailable (Blocked out by the Owner and unavailable to challenge)
View details on this yacht's availability.
Locations
Location Details: Winter 2019/20: Caribbean, based mainly in Virgin Islands starting December - June Summer 2020: -Windward Islands from July and SVG and Grenada from 01 Aug 2020 No Red Hook pick ups please - Yacht Haven Grande in USVI Nanny Cay Marina in BVI Nenne
Summer Base Port: Virgins or Bahamas (Exumas)
Summer Operating Area: Caribbean Virgin Islands, Caribbean Windwards
Winter Base Port: Nanny Cay BVI or Yacht Haven Grande USVI
Winter Operating Area: Caribbean Virgin Islands, Caribbean Leewards, Caribbean Windwards
Preferred Pickups: Nanny Cay BVI or Yacht Haven G
Other Pickups: SXM
Turnaround: 48 hrs minimum
NENNE's crew of three is a dynamic and welcoming team who instantly help you feel relaxed and right at home. Donald and Audrey, married for 22 years, met in South Africa and have spent the last 10 years sailing in the Caribbean. Their great sense of humor, excellent hosting skills and vibrant zest for life promises to make your vacation an unforgettable experience.

CAPTAIN DONALD HARPER held several positions, from Managing Director and COO prior to following his dream of a joyful life at sea. Besides his love for his charming wife Audrey, sailing is his
Read More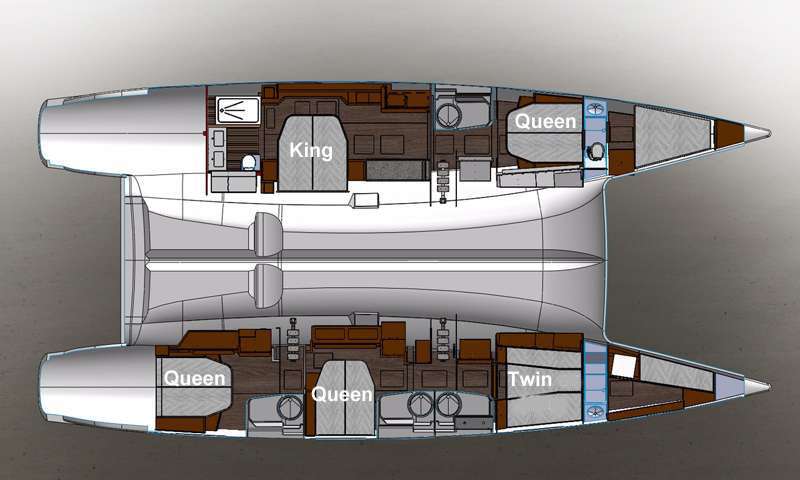 Accomodation Details
Accommodation for 10 guests, in 5 cabins which are all en-suite: 1 King, 3 Queens, 1 Twin. Upon request the Twin can be configured to King. All have independently controlled AC, Sony TV and Apple TV with access to onboard server film library with over 500 films and Bose hifi music system. The very large master cabin has a desk/dressing table and a comfortable couch.

Toiletries are provided and Nenne has sunblock on board, but ask clients to bring their own sunblock that agrees with their skin (Nenne provides a guideline in a Helpful Hints guide prior to the charter).
Guest Cabins
Max Guests: 10
Total Cabins: 5
King Cabins: 1
Queen Cabins: 3
Double Cabins: 0
Single Cabins: 0
Twin Cabins: 1
Pullman Cabins: 0
Showers: 5
Heads: 0
Electric Heads: 5
Amenities
AC: Full
Voltages: 120/240
Hairdryer: Yes
Ice Maker: Yes
Deck Shower: Yes
Jacuzzi: No
Other Amenities:
Apple TV in every cabin and saloon connected to satellite system. Music system is available in every cabin, saloon, cockpit and flybridge connected to a film and music server with wide range of content. Wine cooler and trash compactor. Extra fridges
Specifications
Size: 67 feet
Builder: Fountaine-Pajot
Year Built: 2017
Beam: 31
Draft: 5
Entertainment
Kids okay: Yes
Minimum Age of Kids: 0
Internet Access: Onboard WIFI
iPod/Device Hookups: Yes
Salon Stereo: Yes
Salon TV/DVD: Yes
Sat TV: Yes
Board Games: Yes
Special Diets: Yes
Kosher: No
BBQ: Yes
Crew Smokes: No
Guest Smoke: Yes
On-board Water Sports and Diving
Diving
Premium Dive Experience with Top-of-Line Equipment & Accessories

On-board Dive Compressor

1 X Oxygen cylinder (safety)

Multiple scuba tanks

10 complete sets of the following in various sizes from XS to XL

Regulat
License: Instructor
Costs: Regular Dives: $35 per person per dive
Resort Course (Discover Scuba Diving): $135, includes 1 dive; additional dives $35 per person per dive
Open Water Referral (Check Out Dives) $300: Do your pool and class work at home, come with your
Number of Dives: 1/day
Tanks: 10
BCs: 10
Regulators: 10
Resort Course: Discover Scuba Diving: $135 including 1 dive
Scuba:Onboard
Air Compressor: Onboard
Wet Suits: 0
Dive Lights: 10
Night Dives: 0
On-board Water Sports
Dinghy: Williams Jet Tender with 100hp (Turbojet 385)
Dinghy Horsepower: 100 hp
Dinghy Pax: 8
Water Skis: Yes (Adult) Yes (Kids)
Wake Board: Yes
Tube: Yes
Knee Board: Yes
Snorkel Gear: Yes
Underwater Camera: Yes
Kayak: No (1 Man) 2 (2 Man)
Stand Up Paddle Boards: Yes
Floating Mats: No
Beach Games: Yes
Fishing Gear: Yes
Gear Type: Rods & Reels
Fishing Rods: 2
Jetskis: No
Other Toys: Adult, junior, and trainer water skiis
Adult and junior wakeboards
2 x Stand Up Paddleboards
Several towable inflatables
10 snorkeling sets of various sizes
2 X Go Pro cameras in waterproof housing
Canon camera
A Mavic Pro Drone - rated the best drone of 2017 (operated by the Captain to take some wonderful pictures of your charter experience on board Nenne). Also:
• Go-Pro & Digital guest photos as keepsake
• Personalized guided shore excursions
• Cliff and boom jumping
• Laser star show

Note there is a shade over the whole flybridge area on Nenne.

Nenne has a dinghy lift at the back (instead of the garage) to make skiing and all water sports much easier.
If clients wish to obtain a temporary Fishing Permit they will need to quote the boats permit #748004.

Games:
1000 Piece Puzzle
Alias-Swedish game
Animal Rummy
Articulation-Quiz
Back Gammon
Brandi Dog-Swedish game
Chess
Chromino
Cludo-The Classic Mystery Game
Clue
Condor Stratergy
Domino
Five Crowns- Five-Suited Rummy-Style Card Game
Liars Dice
Majahong-Domino Type Game
Mexican Train-Domino game
Mille Bornes
Monopoly
Othello-Strategy
Pass the Pigs-Small and big version
Playing Cards
Quiddler-Word Game
Quirkle
Scotland Yard-Monopoly type Game
Scrabble-Brand Crossword Game
Set-Family Game of Visual Perception
Sorry
The Dating Game-Truth / Dare
UNO
Word Grab