Catamaran Kestrel is a 2004, 61' Privilege catamaran offering BVI crewed yacht charters. With accommodations for up to 10 guests in 4 King cabins plus an additional fore-peak Twin cabin for kids or teens, she's a wonderful mid-range, luxury choice for families, couples, divers or special occasions. Learn more by watching a short video.
Rates from $21,400 to $26,900. View full rates & availability.
For full details, call us in our South Florida office at (954) 980-9281, toll free at (888) 670-6884 or fill out our Quick Request Form.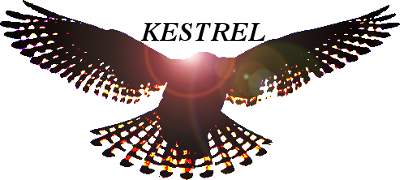 Previously named OCEAN'S SEVEN

CREW PROFILES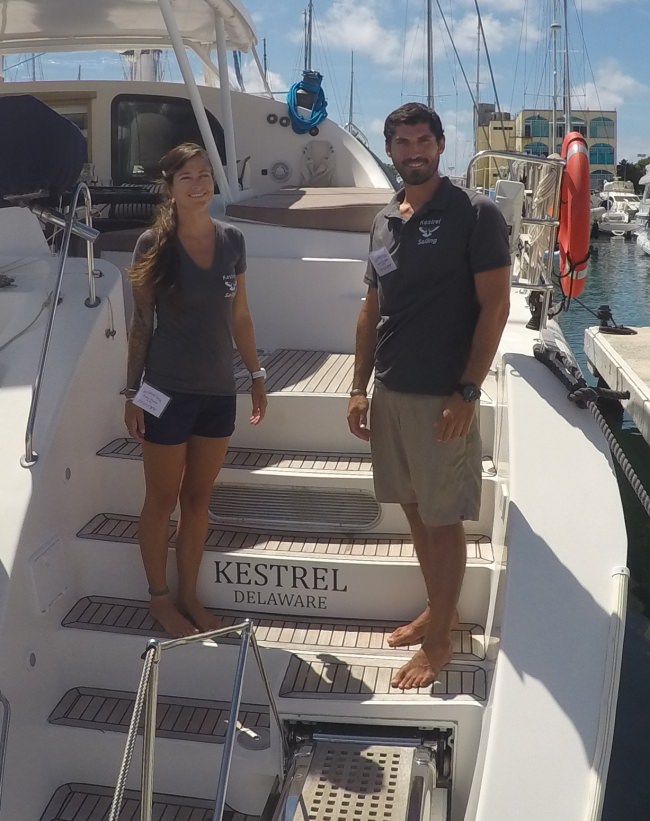 Title
Name
Nation
Born
Licenses
Captain
Andrew Hodgdon
American
31
USCG
Kailee Plotkin
American
27
STCW 95
Number of Crew: 2
Languages: English
Crew Profiles:
Capt. Andrew grew up in Raleigh, NC spending his summers on Lake Gaston. As a child, he developed a passion for small sailboat racing and spent much of his youth zipping around on Hobie Cats and 420 race-boats. Later, Andrew attended the University of North Carolina Wilmington where he was the president of the university Sailing Club and actively shared his passion with other students. During college he also headed up the Bald Head Island Sailing Club in the Cape Fear region of North Carolina where he taught people of all ages how to sail and enjoy the open water. After graduation, his sailing skill helped him land a job teaching sailing on the San Francisco Bay.
Once there, He participated (and won!) in many regattas including the Master Mariners classic wooden boat regatta. While honing his skills on boats of all shapes and sizes, Andrew made the jump from sailing instructor to licensed captain. Soon after, a job offer led him to the Virgin Islands and an opportunity to experience a new side of the yachting community and gain an even deeper understanding of the wind and the water.
Kailee (Kai-lee) grew up in Southern California and spent her days going to the beach and enjoying the Pacific sun. In her younger years she cruised the beaches and boardwalks of San Diego. Later, the family moved to the little town of Playa Del Rey, right on the water. As a teenager she got a job at the local West Marine boat supply store. Already in love with the ocean, this fueled her interest and love of boating. A natural chef, the agriculture of the Golden State provided some of the freshest, most delicious ingredients for Kailee to choose from. With local farmers markets and fresh sea food as her inspiration, she developed a knack for fine food, many mouth-watering recipes and a passion for creativity in the galley.
Kailee and Andrew met in California, where they worked together at a local parasail operator. Their first date began by Andrew dragging Kailee along with him to go fishing and Kailee cooking up the catch afterword! Their common love of the ocean and all things related made them fast, inseparable friends. They spent their days off together free-diving in the kelp beds of Palos Verdes and Malibu, finding exotic sea life like guitar sharks and leopard sharks.
Soon they moved to the Virgin Islands where they worked together helping to run the Water Activities department at the Westin Hotel. Andrew continued to hone his sailing skill and all things nautical while Kailee ran the shore side operations, simultaneously attaining her Divemaster Status.
Sailing charters aboard KESTREL gave them a chance to bring it all together. Now they continue to share their love of sailing and the water with guests while cruising the beautiful Virgin Islands!
Andrew and Kailee look forward to meeting you welcoming you aboard KESTREL!
(888) 670-6884 / (954) 980-9281



Contact Carefree Yacht Charters® about Catamaran Kestrel
E-brochure content and photos provided by Central Yacht Agent.