Catamaran Manna is a 2013, 53' Royal Cape catamaran offering crewed yacht charters in the BVI and USVI. She features a crew of 2, on-board scuba diving for certified guests, and accommodations for up to 8 guests in 1 King Master Suite, 2 Queen cabins, plus 1 Double cabin. Catamaran Manna is a Carefree Yacht Charters affordable pick for families, couples, divers, or special occasions.
Rates from $16,000 to $22,500. View availability and rate details.
Contact Us
To learn more about this crew or for further details about MANNA, call us in our South Florida office at (954) 980-9281, toll free at (888) 670-6884 or fill out our Quick Request Form.
What Our Carefree Clients Said
A group of adults that we booked aboard 53' Catamaran Manna in February, 2017 said: We absolutely loved our trip aboard Manna! Thank you very much for hooking us up with Manna. This whole process was first class and easy, and made for a perfect vacation. Dave M., Minnesota
Click on any photo to pause the slideshow. Once paused, the slideshow will resume after 10 seconds.
Season
Passengers
2
3
4
5
6
7
8
9
10
11
12
Winter 2022 to 2023
$16,000.00
$17,250.00
$18,000.00
$19,250.00
$20,000.00
$21,500.00
$22,500.00
$0.00
$0.00
$0.00
$0.00
Summer 2023
$16,000.00
$17,250.00
$18,000.00
$19,250.00
$20,000.00
$21,500.00
$22,500.00
$0.00
$0.00
$0.00
$0.00
Winter 2023 to 2024
$16,000.00
$17,250.00
$18,000.00
$19,250.00
$20,000.00
$21,500.00
$22,500.00
$0.00
$0.00
$0.00
$0.00
Price Details
NOTE Manna will be once again be accepting 8 guests aboard starting July 1. Inquire for availability. BVI based starting November 2022 onwards. GENERAL RATES NOTE: All rates are for 7 nights, 8 days. For short charters please use the divide-by-6 rule for figuring short charter premiums. Charters of less than 6 nights available depending on schedule and season, please inquire. Full Board rates require one dinner ashore at guest expense. Half Board Rates: Deduct $200 per person per 7 nights of charter. Requires 3 Lunches and 4 Dinners and associated beverages taken ashore at client expense. Please inquire for less than 7 nights. Local Fare Rates: Deduct $50 per person per 7 nights of charter. Includes: 7 breakfasts, 5 lunches & 6 dinners. Remaining meals taken ashore at guest expense. Sleep aboard Rates: Please calculate using 1/2 the daily rate. Includes boarding after 5pm, dock side with marina amenities along with welcome cocktail and breakfast the next morning and an early charter start. Dinner ashore at client expense. 6 Night Min. Manna is available to charter Down Island and will relocate. Please inquire for availability. CHRISTMAS / NEW YEARS: 1-8 @ $26,500, 7 night minimum. BVI ports only Christmas charter must end no later than December 26th. New Year charter cannot begin earlier than Dec 27th. One dinner ashore at guests expense. Spanish Virgins Maximum 6 pax only You can view a sample itinerary that the amazing crew of Manna skillfully put together. The itinerary is sample of Spanish Virgin Islands (SVI) charter and includes; stops at one of the oldest lighthouses in the Caribbean, exhilarating island hikes, breathtaking snorkel spots and basking in the sun on the sand of the world famous Flamenco Beach. *** S P E C I A L S * * *
To find the best dates for your charter, call us in our South Florida office at (954) 980-9281, toll free at (888) 670-6884 or fill out our Quick Request Form.
Calendar
Highlighted dates are booked, on hold, or unavailable. We may be able to challenge the dates on hold. Please contact us for details. All other dates not highlighted are available. You can use the arrow icons to navigate through the months.
Dates Color Key
If no color is noted on calendar or in the detailed list below, the dates are available for your charter. Dates can change quickly, so please contact us as soon as possible to begin booking your charter. Highlighted colors mean:
Booked (Booked by another client group already)

Hold (Held by another client group, not yet booked, and can be challenged)

Unavailable (Blocked out by the Owner and unavailable to challenge)
View details on this yacht's availability.
Locations
Location Details: Manna is available year round in the US/British and Spanish Virgin Islands. Please inquire for other locations.
Summer Base Port: Virgin Islands/Grenadines
Summer Operating Area: Caribbean Leewards, Caribbean Virgin Islands (BVI)
Winter Base Port: BVI
Winter Operating Area: Caribbean Virgin Islands (BVI)
Preferred Pickups: Village Cay, Tortola
Other Pickups: BVI
Turnaround: 24 hrs
In 2013, Manna was built by Royal Cape Catamaran in Durban, South Africa. She is a true 53' ocean going vessel customized for the Scuba Diver with water level dive entry and ladder. Once the yacht was launched and sea trails were completed, Manna sailed across the Atlantic to the Caribbean islands.

Manna's team consists of Captain Allen and Chef Lucrecia "Lu" Lawson who are also from Texas. Allen Lawson was raised in a family that loved boating. At a very young age, he found his first love and bought a Cabin Cruiser at the age
Read More
Click on any photo to pause the slideshow. Once paused, the slideshow will resume after 10 seconds.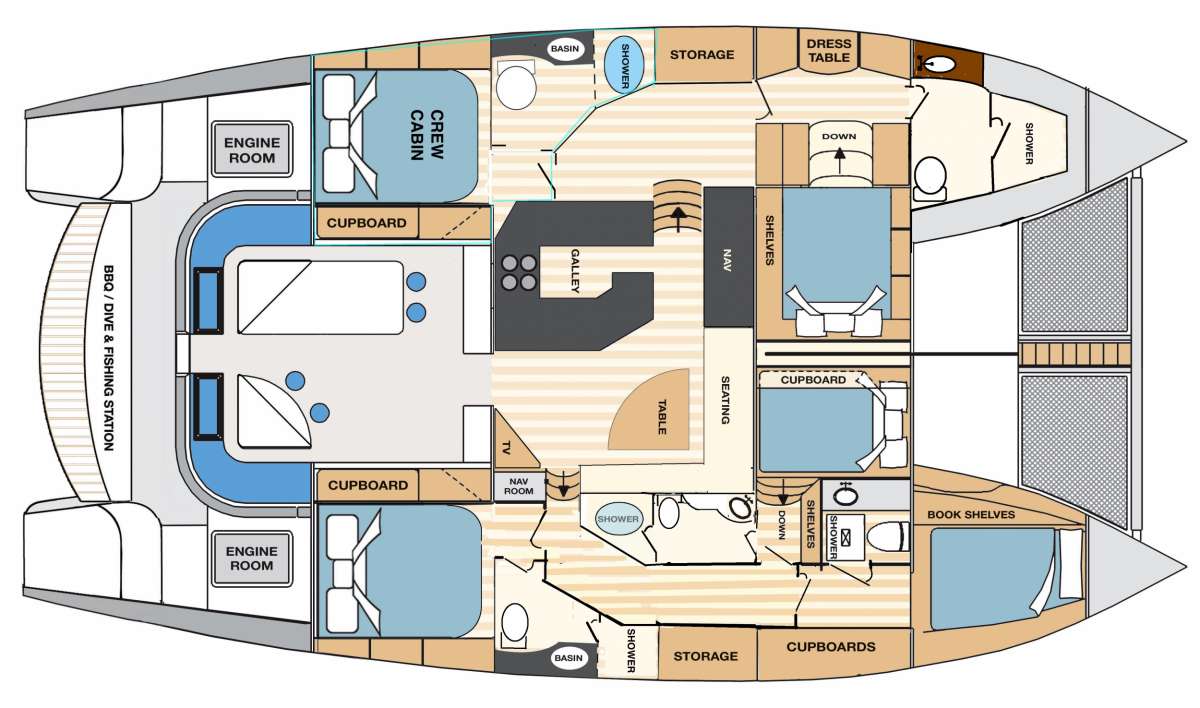 Guest Cabins
Max Guests: 8
Total Cabins: 4
King Cabins: 1
Queen Cabins: 3
Double Cabins: 0
Single Cabins: 0
Twin Cabins: 0
Pullman Cabins: 0
Showers: 4
Heads: 4
Electric Heads: 4
Amenities
AC: Full
Voltages: 110
Hairdryer: No
Water Capacity: 310 gallons
Water Maker: Yes
Ice Maker: Yes
Deck Shower: Yes
Jacuzzi: No
Other Amenities:
Crew members Certified as First Response Providers
New state of the art Phillips AED on board
Emergency Oxygen on board
USCG Emergency Frist Response Kit
Body Soap, Shampoo and Conditioner provide in each cabin
Premium Linens and towels
2000 watt Stereo sound system with 3 separate zones including the mast.
Full size BBQ Grill
Portable VHF radios for guest use when on shore to call for pickup
Dry Bags for going to shore
Plenty of on board Games and movies
Pirate Costumes are provided for Michael Beans Happy Arrrr… show.

Planning on pursuing a USCG Captain's License" As part of the documentation process with the US Coast Guard you will need to show your time at "sea." Captain Allen can help with that by filling out your Small Vessel Sea Service Form.

Specifications
Size: 53 feet
Builder: Royal Cape
Year Built: 2014
Refit: 2019
Beam: 28.5
Draft: 4
Entertainment
Kids okay: Yes
Minimum Age of Kids: Water Safe & Disciplined
iPod/Device Hookups: Yes
Salon Stereo: Yes
Salon TV/DVD: Yes
Sat TV: No
Board Games: Yes
Special Diets: Yes
Kosher: Yes
# Dine In: 6
BBQ: Yes
Crew Smokes: No
Guest Smoke: Transom Only
On-board Water Sports and Diving
Diving
2018 Upgraded both diving compressors to continuous duty along with adding 10 new 3300 psi 80 aluminum tanks. (Which gives us both HP100 steel tanks for the guys that use a lot of air and AL80 aluminum tanks for the younger and lighter divers)



Dive Gear updated yearly.
License: Instructor
Costs: Free Unlimited Diving Included for Certified Divers.
All course are certified through PADI

Discover Scuba $160
This is a course for the curious non-certified diver. The course entails a short academic session, pool session and upon successful completion, a two-tank boat dive. This entire package includes all necessary equipment,

Complete Open Water Course $595
Average two full days with confined water session where we build your scuba diving skills in a controlled environment and 4 boat dives to demonstrate the skills you have learned. Includes PADI E-leaning which must be completed prior to arriving, dive Log, use of any scuba equipment necessary to complete course, and upon successful completion, processing fees. Buying onboard or bringing your own mask and snorkel is highly recommended.

Referral Open Water completion check out dives $325
The certification process will never seem long or difficult when you have the opportunity to finish it in the Caribbean! This package Includes 4 open water dives over two days.

Advance Open Water course $390
Are you looking to upgrade your dive credentials? The PADI advanced open water training features 3 core dives which include DEEP, NAVIGATION, and NIGHT. This package includes use of manual, any or all equipment to complete course. You will receive an on-board briefing with no classroom time required. Choose ELearning and all you are paying for are the dives.
(PADI ELearning fees not included)

Rescue Diver $500
Now you can become a rescue diver in just two days. Before enrolling in this course you must be an advanced open water diver and have current CPR and FIRST AID Certification. Manual and all necessary equipment to complete course, including processing fees, for only $500.

Specialty courses available upon request.

Number of Dives: unlimited
Tanks: 8
BCs: 10
Regulators: 8
Resort Course: $160
Full Course: See Below
Scuba:Onboard
Air Compressor: Onboard
Wet Suits: 8
Dive Lights: 8
Night Dives: 1
On-board Water Sports
Dinghy: 14 ft Ocean master
Dinghy Horsepower: 60
Dinghy Pax: 8
Water Skis: Yes (Adult) No (Kids)
Wake Board: Yes
Tube: Yes
Knee Board: No
Snorkel Gear: Yes
Underwater Camera: Yes
Kayak: No (1 Man) Yes (2 Man)
Stand Up Paddle Boards: 2
Floating Mats: 2
Beach Games: Yes
Jetskis: No
Other Toys: 4 Bean Bag chairs
2 Subwings
1 Wake board
10 Dive Mask in different sizes to fit your face profile w/Snorkel
10 Dive / Snorkel fins with socks provided for comfort
3 Full-face snorkel Mask
8 Premium float noodles
2 Floating mats for sunbathing on the front deck.
Beach towels provided

10 Person Floating island
2 Paddle boards
3 person Hard Kayak
Water Ski
1 Subwings
3 person Tube